Domo Champion S Pro 50 M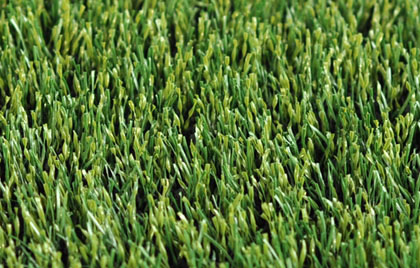 Artificial grass should always try and approach the appearance of natural grass as much as possible. The colours used for Champion S Pro are a perfect match for the shades of natural grass. The grass fibre remain nice and straight thanks to the profiling of the yarn, the Heliflex technology and the sand and rubber infill.
Heliflex technology ensures that the yarn always spring back up nice and straight after each bounce or impact. As a result, the grass mat carries the ball, as it were, making it easier for players to get their foor under it. The roll and speed of the ball on natural grass are equaled, if not better.
In the LISPORT set-up, a test setup for checking wear resistance, the fibre remains intact after 30,000 cycles. This equates to 15 years of normal football play.
Product Specification:
Yarn type: Monofilament Heliflex Technology
Thickness: 300 Micron
Dtex yarn: 13.000 dtex
Origin: Made in Belgium
Test reports. Domo® Champion S Pro has been tested to all major standards:
- FIFA Quality Concept (this quality easily meets the requirements of FIFA 1- and 2-star tests)
- European Standard EN 15330-1
- German Standard DIN 18035-7
- Swiss standard ESSM 105D
- French Standard NF P90-112