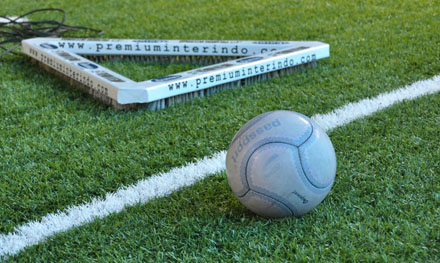 Maintenance
Although the maintenance of artificial-grass pitches is less intensive than natural-grass pitches, it is of the utmost importance that necessary maintenance work is carried out regularly and carefully. This is important for the life of the pitch and its suitability for play.
Daily – weekly maintenance
- Systematic removal of leaves and other organic material contaminating the pitch. Unless this is done, the permeability of the pitch may be affected adversely. Do not allow dogs or other animals onto the pitch and wipe your feet before entering the pitch. It is recommended to metal the path from the changing-rooms to the pitch.
- Inspection of the pitch for the presence of rubbish (paper, cigarette ends, chewing gum and the like) or dangerous waste (glass, etc.). Any such waste materials should be removed at once. Place enough waste bins around the pitch.
- Inspection of the pitch for any damage. If damage is found, the user must notify rumputsintetis.com or the contractor. Repairs of the artificial-grass cover may only be done by rumputsintetis.com or the contractor.
- Inspection of the infill on the pitch. If bald spots are emerging the surrounding sand and rubber should be brushed into the infill by means of a nylon brush. The brush is mounted behind a light tractor. The work can best be done in dry weather, 2 to 3 times a month.
- It is very important that maintenance should be done with light equipment. The tyre pressure of rolling stock (tractor, etc.) should not exceed 1 kg/cm².
- Measures must be taken to prevent contamination (oil and similar) by rolling stock.
Specific maintenance
- Preventive maintenance to protect against algae or moss.
- During summer season / extreme heat on the pitch, watering the pitch is required to maintain the pitch to keep cool.
- Removal of algae and moss from the cover. This treatment also removes the roots without damaging the back of the artificial-grass cover.
- Brushing and cleaning the pitch, followed by the partial removal, cleaning and re-pouring of the sand.
- The draining system must be regularly checked and blown clean, if necessary.
- This maintenance work should be included in a maintenance contract. During each maintenance session a form is to be filled out, describing the state of the pitch before maintenance and the work to be done.