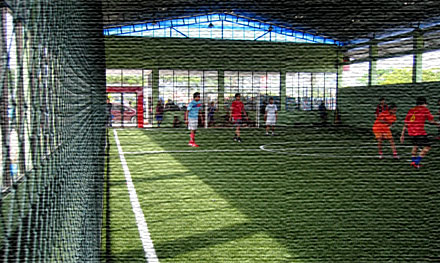 Projects Gallery
Overview of our accomplished projects. All these projects are both for sport and landscape. We had done more than 300 futsal pitches all over Indonesia and keep counting on next upcoming projects. Another artificial grass projects such as soccer & mini soccer pitch, golf putting green & driving mats, landscape, multisports, hockey and tennis are also part of rumputsintetis.com works.
We only input few of our project review. We hope these photos can describe more ideas of our works. For complete ideas out of our project references, please contact us.
Or you can check on our regularly updated reference projects, click this link Client List
Louis Vuitton Showroom & Kaskus.com Office

Kaskus.com office pictures are the property of kompas.com
Project: "Kaskus.com Office @ Gedung Palma - Kuningan, Jakarta"
Project: "Louis Vuitton - Private Area --> Plaza Indonesia - Jakarta"
chill out area for employee, working area not always have to be so serious..
Product used: Domo Parador Verde - 100m2 -- Kaskus.com Office
Domo Allround & ActGlobal Premier E-50 - 56m2 -- Louis Vuitton Showroom
Project accomplished in 2011
EpiCentrum Walk - Kuningan

Ide-ide yang muncul terhadap applikasi rumput sintetis sebagai lantai memang menarik. Untuk proyek kami di Epicentrum Walk, sebelah Gedung Bakrie - Kuningan, Jakarta Pusat, telah menggunakan produk rumput Domo Allround sebagai center stage yang sering digunakan untuk konser, acara TV maupun pameran.
Kami menunggu ide brilliant lainnya yang akan muncul dari arsitek, interior designer dan landscape contractor di Indonesia. Produk yang kami sediakan cukup lengkap untuk di eksplore dalam memenuhi kebutuhan anda.
Private Residence - Bali

Kebutuhan rumput sintetis untuk area putting golf dengan dikelilingi oleh nuansa kayu, kolam renang dan view kolam renang. Untuk kesenangan terhadap olahraga golf, area private ini dapat memuaskan pemilik rumah yang terkadang digunakan sebagai playground atau barberque outdoor.
Tanpa harus memikirkan perawatan rumput, area ini bisa digunakan sepanjang tahun, siang / malam, mudah dibersihkan dan tentunya selalu hijau.
Ini adalah salah satu project private residence yang kami kerjakan di Dreamland Bali - Indonesia.