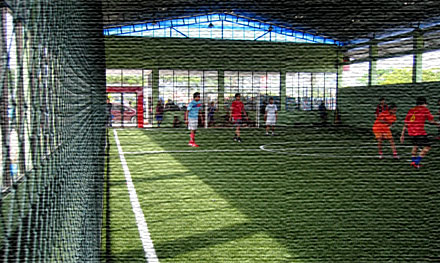 Projects Gallery
Overview of our accomplished projects. All these projects are both for sport and landscape. We had done more than 300 futsal pitches all over Indonesia and keep counting on next upcoming projects. Another artificial grass projects such as soccer & mini soccer pitch, golf putting green & driving mats, landscape, multisports, hockey and tennis are also part of rumputsintetis.com works.
We only input few of our project review. We hope these photos can describe more ideas of our works. For complete ideas out of our project references, please contact us.
Or you can check on our regularly updated reference projects, click this link Client List
Renovasi Total Futsal Medan

Pemasangan rumput di lapangan ini adalah untuk pergantian rumput sebelumnya yang sudah tidak layak lagi. Pihak pembeli memutuskan menggunakan rumput produk Domo Sports Grass setelah melakukan perbandingan pada beberapa produk lainnya. Salah satu yang hal utama yang membuat pihak pembeli happy adalah ternyata transaksi dengan PT.Premium Interindo mendapatkan free alat perawatan rumput.
- 416m2 Domo Slide DS45
- Total Futsal
- Jl. Dr Mansur Baru II No.6, Medan
Salam futsal untuk Medan futsaller! Horass!!
Patra Nusa Data Futsal

Investasi lapangan futsal bukan hanya untuk disewakan. Trend lapangan futsal dibuat sebagai fasilitas kantor semakin populer. Salah satu sister company dari Pertamina, yaitu Patra Nusa Data melakukan konversi lapangan tenis menjadi lapangan futsal rumput sintetis outdoor. Hasilnya, jam bermain di fasilitas kantor terbaru ini terisi penuh dengan cepat.
Olahraga bukan hanya untuk kesehatan, tetapi juga sebagai sarana bersosial, berinteraksi dengan rekan sesama kantor dan melepas kejenuhan kerja.
Enjoy your pitch!!
Product used: Domo Slide DS 45M
Accomplished date: April 2013
Australian Int'l School - Bali Soccer Field

After the successful story of AIS Kemang Jakarta mini soccer pitch, now we had been trusted to carry on to the next project: AIS Bali soccer pitch. Larger size, better prepared drainage system. It's been set to follow the highest quality sport surface demanded by FIFA.
We proudly present, the first artificial turf field for soccer in Bali - Indonesia!
Turf used: Domo Champion S Pro 50M
Accomplished: April 2013