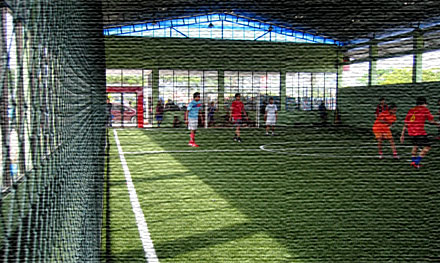 Projects Gallery
Overview of our accomplished projects. All these projects are both for sport and landscape. We had done more than 300 futsal pitches all over Indonesia and keep counting on next upcoming projects. Another artificial grass projects such as soccer & mini soccer pitch, golf putting green & driving mats, landscape, multisports, hockey and tennis are also part of rumputsintetis.com works.
We only input few of our project review. We hope these photos can describe more ideas of our works. For complete ideas out of our project references, please contact us.
Or you can check on our regularly updated reference projects, click this link Client List
Australian Int'l School - Bali Soccer Field

After the successful story of AIS Kemang Jakarta mini soccer pitch, now we had been trusted to carry on to the next project: AIS Bali soccer pitch. Larger size, better prepared drainage system. It's been set to follow the highest quality sport surface demanded by FIFA.
We proudly present, the first artificial turf field for soccer in Bali - Indonesia!
Turf used: Domo Champion S Pro 50M
Accomplished: April 2013
Toyota Sunter - Lapangan Futsal

Setelah sukses dengan lapangan futsal outdoor Toyota di Karawang, proyek lanjutan fasilitas lapangan futsal dilanjutkan ke area pabrik Sunter. Permintaan langsung dari para karyawan di Toyota untuk memiliki lapangan futsal private akhirnya berhasil tercapai.
Dengan seleksi yang ketat dari pihak Astra Toyota, akhirnya Rumputsintetis.com dipilih untuk eksekusi pengadaan dan pemasangan lapangan futsal rumput sintetis indoor. Hasilnya? Daftar antrian panjang dari staff Toyota untuk beradu skill futsal di arena ini.
Terima kasih Toyota atas kepercayaannya terhadap jasa kami!
Product used: Domo Slide DS 45M
Accomplished: April 2012
Vigor Futsal - Pontianak
NEWly Renovated 3 futsal pitches in Pontianak - Kalimantan Barat.
Previously used up pitches had been installed for almost 3 years with heavy torn and wear. The decision to took a break and renew pitch not only increase the selling point, also maintaining regular customer satisfaction.
The clients now can serve better and keep the business going.
Product choosen is Domo Champion S Pro.
Accomplished date: October 2011