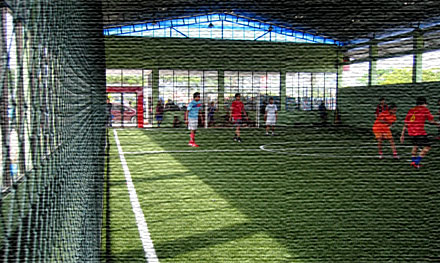 Projects Gallery
Overview of our accomplished projects. All these projects are both for sport and landscape. We had done more than 300 futsal pitches all over Indonesia and keep counting on next upcoming projects. Another artificial grass projects such as soccer & mini soccer pitch, golf putting green & driving mats, landscape, multisports, hockey and tennis are also part of rumputsintetis.com works.
We only input few of our project review. We hope these photos can describe more ideas of our works. For complete ideas out of our project references, please contact us.
Or you can check on our regularly updated reference projects, click this link Client List
Maestro Kemayoran Futsal

HUGE! - covered area of 4.000 sqm
Largest! - 6 full size indoor soccer / futsal pitches at one place
Most convenient! - located in Kemayoran - Central Jakarta
NEW!! - start operating in March 2008
Product type: Domo VarioSlide Excellence 50
Dtex yarn: 15.000 PE
Accomplished on Apr`08
Solmet Sport Center

The most luxurious 2 futsal pitches located in Makassar. By using the top quality grass - Domo VS Excellence 50, this venue also provide a great garden view and cozy coffee shop / lounge to rest after/ before you play. Also check out their 6 badminton courts with International standard certified material.
2 indoor soccer / futsal pitches - +/- 850m2
Product type: Domo VS Excellence 50
Yarn: Fibrillated & Monofilament
Dtex yarn: 15.000 PE
Accomplished date: November 2008
BSD House - Landscape

Specified: Domo VS Excellence 50
Qty: 120 m2
Accomplished in Feb`08
Supply & installed by PT.Premium Interindo
Mix of artificial grass, water garden and palm trees.