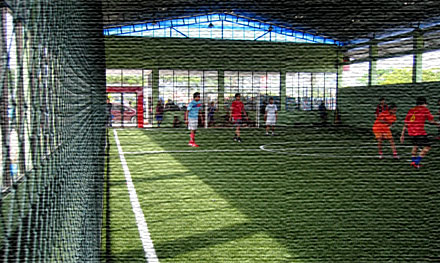 Projects Gallery
Overview of our accomplished projects. All these projects are both for sport and landscape. We had done more than 300 futsal pitches all over Indonesia and keep counting on next upcoming projects. Another artificial grass projects such as soccer & mini soccer pitch, golf putting green & driving mats, landscape, multisports, hockey and tennis are also part of rumputsintetis.com works.
We only input few of our project review. We hope these photos can describe more ideas of our works. For complete ideas out of our project references, please contact us.
Or you can check on our regularly updated reference projects, click this link Client List
Louis Vuitton Showroom & Kaskus.com Office

Kaskus.com office pictures are the property of kompas.com
Project: "Kaskus.com Office @ Gedung Palma - Kuningan, Jakarta"
Project: "Louis Vuitton - Private Area --> Plaza Indonesia - Jakarta"
chill out area for employee, working area not always have to be so serious..
Product used: Domo Parador Verde - 100m2 -- Kaskus.com Office
Domo Allround & ActGlobal Premier E-50 - 56m2 -- Louis Vuitton Showroom
Project accomplished in 2011
Australian International School

Location: Kemang - Jakarta
Project: 1 mini soccer pitch & 1 volley court outdoor
After many years of headache in maintaining the natural grass pitch, finally AIS took a big step and switch to artificial turf. The students are very enthusiast to welcome the new look & feel on their soccer court. The facility division now relieve on the maintenance cost and given credit by the school owner for finding the win win solution for school and student.
INCO & Badak NGL outdoor mini soccer

Mini soccer pitch / futsal using turf is getting more popular. This sport also has a high demand from oil or mining company employee. In year of 2011, we had done several soccer pitches for this public owned company as one of their sport facility.
INCO Tbk. in Soroako and also Badal NGL in Bontang are part of our satisfied clients. Now the employees have another fun activity to create closer social bonding between departments.
Lapangan bola mini / futsal dengan menggunakan rumput sintetis semakin populer. Olahraga ini juga memiliki permintaan yang tinggi dari pekerja di perusahaan minyak / pertambangan. Di tahun 2011, kami telah mengerjakan beberapa lapangan bola / futsal untuk perusahaan terbuka (Tbk.) sebagai fasilitas baru olahraga mereka.
INCO Tbk. di Soroako dan juga Badal NGL di Bontang adalah bagian dari klien kami yang sangat puas dengan hasil kerja kami. Sekarang mereka memiliki aktifitas menyenangkan dalam menciptakan hubungan kerja yang lebih dekat antar departemen.